A WARM WELCOME to Inspirational Moments! Expand your mind & perspective! Be inspired to create a better life & world!
INSPIRATIONAL VIDEOS:


"My Stroke of Insight"...Jill Bolte Taylor




"Why Aren't We All Good Samaritans?"...Daniel Goleman




"The Beckioning Promise of Personal Fabrication"...Neil Gershenfeld




---

CHECK BACK OFTEN FOR NEW INSPIRATIONAL VIDEOS.


*Your privacy is important! Information is
never sold or shared with others.



Learn more...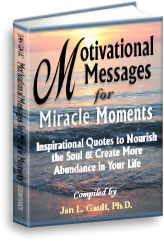 "The Mighty Power of Your Beliefs gives you the ammunition to knock out self-defeating belief baggage and replace it with those mind tools leading to a richer more rewarding life."
~Terry M. Roland, President,
International Business Centers, Inc.

Dream The Life & World You Desire Then Create It!
The Mighty Power of Your Beliefs
---
[Home] [Meet Dr. Jan] [Coaching] [Press] [Belief Quiz] [Free Prosperity Gifts] [Motivational Messages] [Programs] [Clients] [Links] [Contact Us] [Privacy Policy]


Jan Gault International